As a dealership proudly serving Devon, Wayne, and Paoli we at Fred Beans Volkswagen know how much your vehicle means to you. That's why we go above and beyond to provide the best quality maintenance services such as brake repairs.
On this page, you'll find all kinds of information about our brake repair services. Additionally, you'll learn a little more about the importance of brake maintenance and how you can schedule your brake repair appointment today!
How We Do Brake Repairs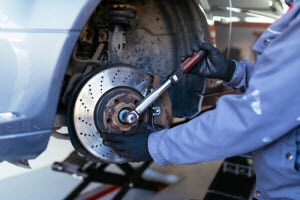 At our service center, you can count on your vehicle being in the best of hands. Our expertly trained technicians have years of experience and an array of top-notch tools, making it easy for them to spot even the smallest issues and repair them.
Our service team knows your time is just as important as your vehicle. That's why we strive to provide quality service that's also quick, so you can get back on the road as soon as possible.
The Importance of Brake Maintenance
Maintaining your brakes is an essential aspect of being a car owner. Your brakes have a very important job but need to be serviced regularly in order to do this job correctly. If you're experiencing any of the following, it may be time to have your brakes checked!
Squealing when the brakes are applied
Vibrating when the brakes are applied
Pulling, or the feeling that your car is veering on its own
It takes a lot more pressure to apply the brakes
Even if you aren't experiencing any of these faulty brake symptoms and your brake light is on, you'll still want to have your brakes checked just to be sure.
Schedule Your Brake Repair Today!
We're thrilled that you've started your brake repair research with us at Fred Beans Volkswagen of Devon. We hope the resources on this page equip you with all the information you need to detect issues with your brakes.
Think it may be time to come in for a brake repair or check-up? Give us a call today to make a service appointment and make the short drive from Devon, Wayne, and Paoli.