For years, we have been proud to serve customers in Devon, Wayne, and Paoli who love Volkswagen as much as we do. Whether you are in the market for a new or used Volkswagen, our mission is to match you up with the perfect car, one you will enjoy for years or decades.
Part of our car matchmaking process involves each car's unique technology. Today's drivers do not simply want a car to get them places. They want a car that can enhance their lives while they are on the road. Those lives include devices, modern amenities, and busy schedules. That's why at Fred Beans Volkswagen of Devon we compiled these in-depth technology guides.
Technological Features You Need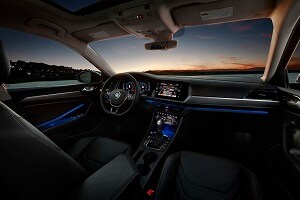 When a customer asks us about technological features, we deal with performance first. Driving impressions are not necessarily technological the way infotainment features are. We find, however, that certain technology improves the driving experience. If a car has all-wheel drive standard on all trim levels, we will point that out. We also look for features like collision braking, which holds your brakes after an accident, so you don't feel a second impact and sustain more injuries or damage.
We focus on the features that will best enhance your lifestyle, which helps you narrow your choices. If you frequently drive at night, we recommend investing in Blind Spot Monitoring and automatic high-beam lights or fog lamps. If you regularly drive in heavy traffic, we will point you to Parking Sensors, Rear Cross-Traffic Monitoring, and Pedestrian Detection Systems. We also like Adaptive Cruise Control, as it puts you in charge of your car's speed and handling.
Fun and Entertaining Features
Many Volkswagen come standard with infotainment features that are optional or unavailable on other cars. Among these are Bluetooth® phone and audio capabilities, Android Auto™ or Apple CarPlay™. We love how these features make it possible to take along any devices you want on a trip. With several USB ports standard, you will never have to choose between your phone, tablet, or e-reader again.
Contact Fred Beans Volkswagen of Devon
If you have questions about technological features or wish to browse our inventory, please contact Fred Beans Volkswagen of Devon today.