What's the most important aspect of your vehicle when cruising around the Devon, Wayne, and Paoli, Pennsylvania, area? Some might say performance, while others prefer to have access to the latest in automotive technology. Whatever your preferences are, it's always a good idea to opt for a vehicle that's fuel efficient.
Sedans are known for their excellent fuel economy. However, the 2021 Volkswagen Jetta takes fuel efficiency to the next level with its numerous features dedicated to granting you more time on the road and less time at the pump.
With this 2021 Volkswagen Jetta MPG guide by the team at Fred Beans Volkswagen of Devon, you'll find out just how much you'll be visiting the gas station. Learn more about the Volkswagen Jetta MPG, as well as the performance that makes it all happen, and discover if it meets (or exceeds) your standards when you continue reading further.
---
2021 Volkswagen Jetta Performance
Before we jump into fuel economy ratings, it's important to know about the VW Jetta performance. After all, this is what makes the efficiency magic happen.
The reason the VW Jetta is so fuel economical is thanks to the expert engineering under the hood. In all five of the trim levels, you'll find the 1.4L 4-cylinder turbocharged engine that packs quite the punch on the road while still giving you the efficiency you need.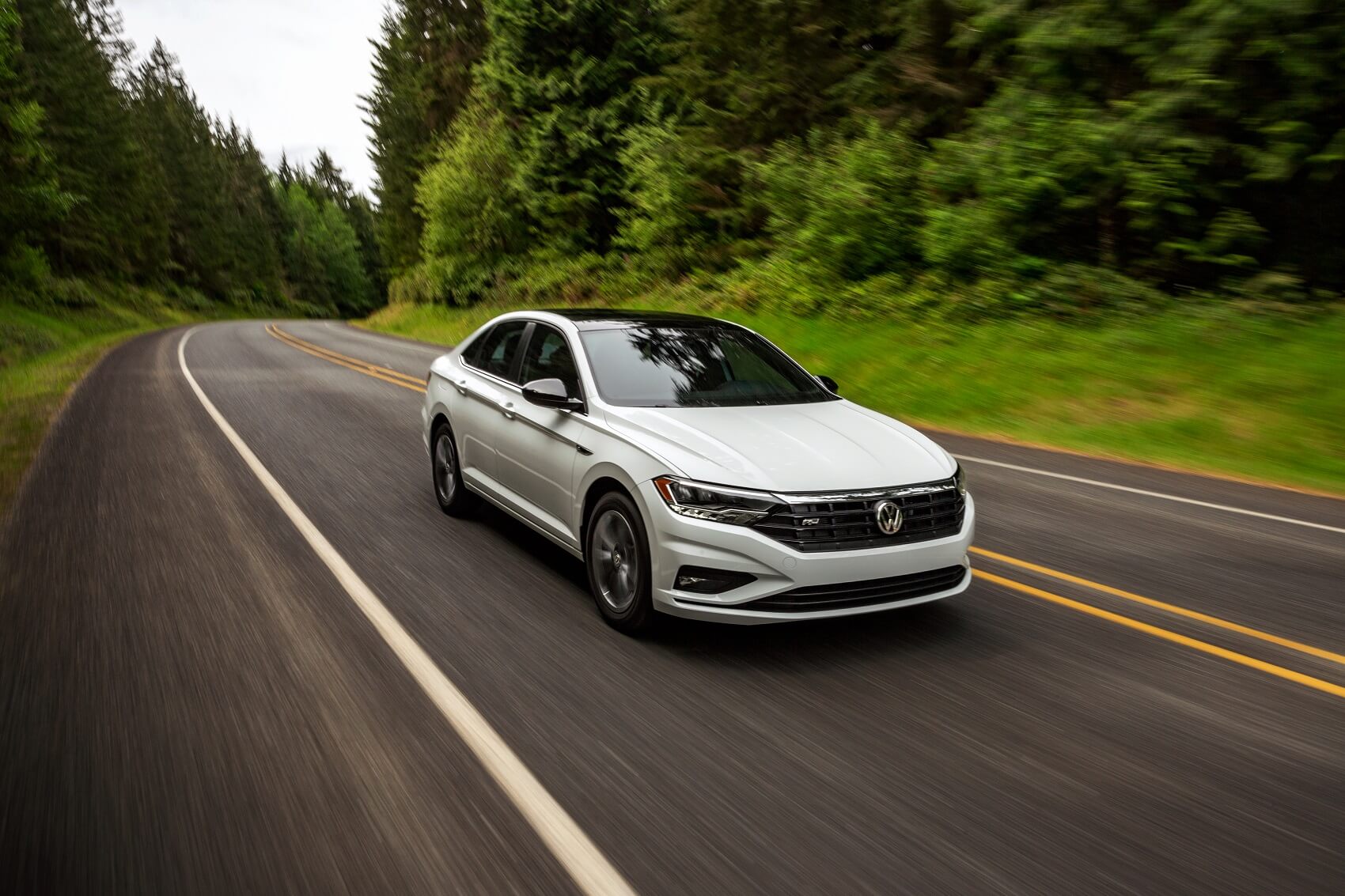 This powertrain can generate 147 horsepower and 184 lb-ft of torque, great for maneuvering through city traffic or accelerating on the highway. The engine also boasts direct-injection capabilities and has an intercooler, both of which lend to its high fuel economy estimates.
This engine is also standardly paired with a front-wheel drive system and a 6-speed manual transmission. This piece of equipment also lends itself to the efficiency, as well as provides a more personalized driving experience.
If you prefer guess-free shifting, an 8-speed automatic transmission with Tiptronic is also available on some trim levels. Not only will this transmission also help keep a respectable fuel economy, but it also allows you to switch from automatic mode and manually shift.
---
VW Jetta MPG Ratings
The 2021 VW Jetta is more efficient than ever before, offering a satisfactory fuel economy whether you're driving through the city or cruising down the highway.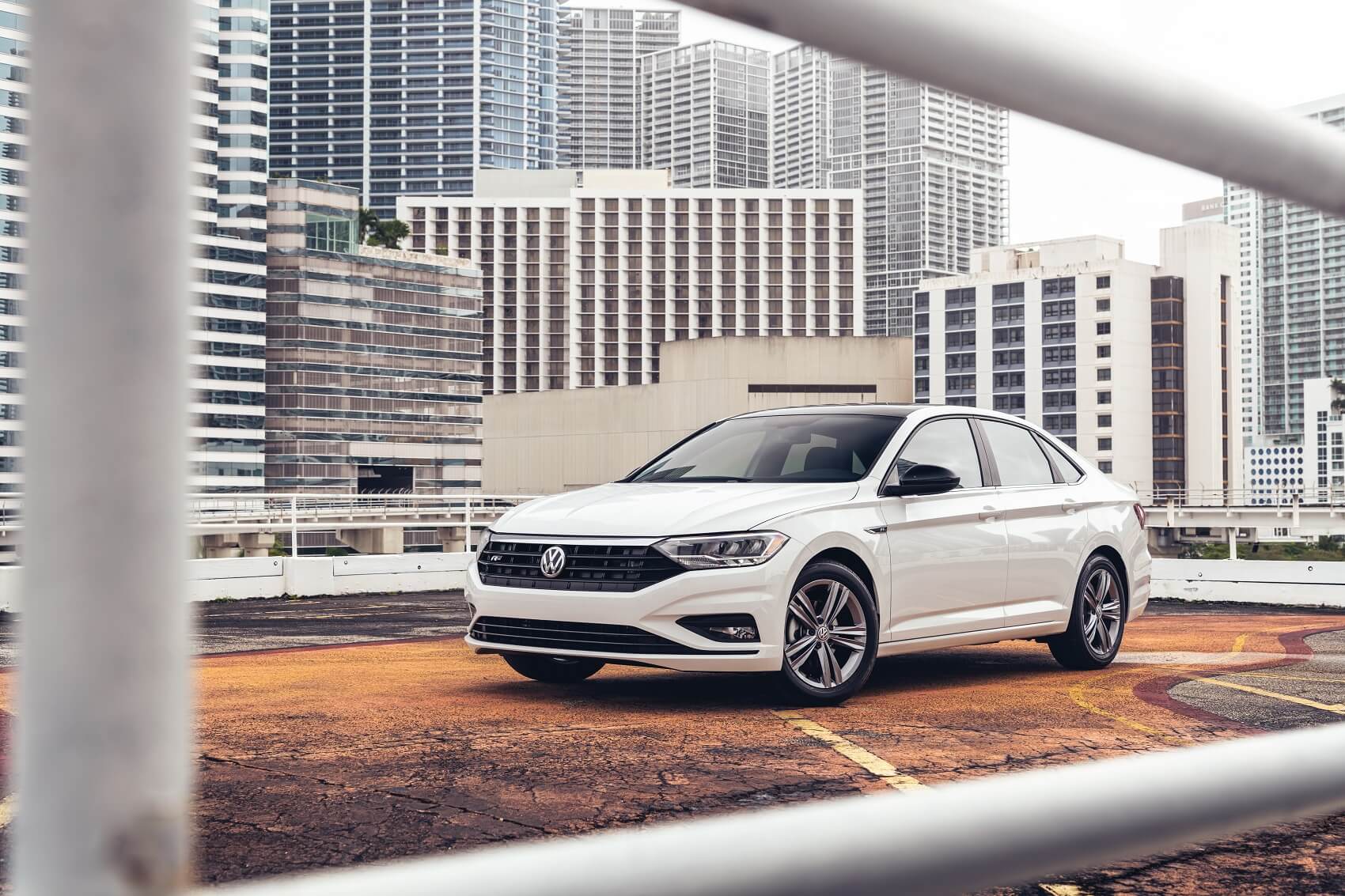 According to EPA estimates, when the 2021 VW Jetta is standard outfitted with the 6-speed manual transmission, you'll see the following EPA estimates: 30 city/41 highway/30 combined MPG.*
The 2021 VW Jetta also comes outfitted with a generously sized 13.5-gallon gas tank. This also lets you spend significantly more time on the road without having to stop and refuel. How handy! But that's not where the VW Jetta efficiency ends either. Trim levels are also outfitted with an Eco profile, ensuring you get the most bang for your buck at the gas station.
What's the best part about the VW Jetta MPG rating? It's that you'll be able to enjoy a great fuel economy that keeps you on the road no matter which trim level or transmission you opt for. Whether you're a fan of guess-free shifting or love the control of a manual transmission, you'll be filling up your gas tank less frequently.
---
How to Get the Most Out of Your 2021 VW Jetta Fuel Economy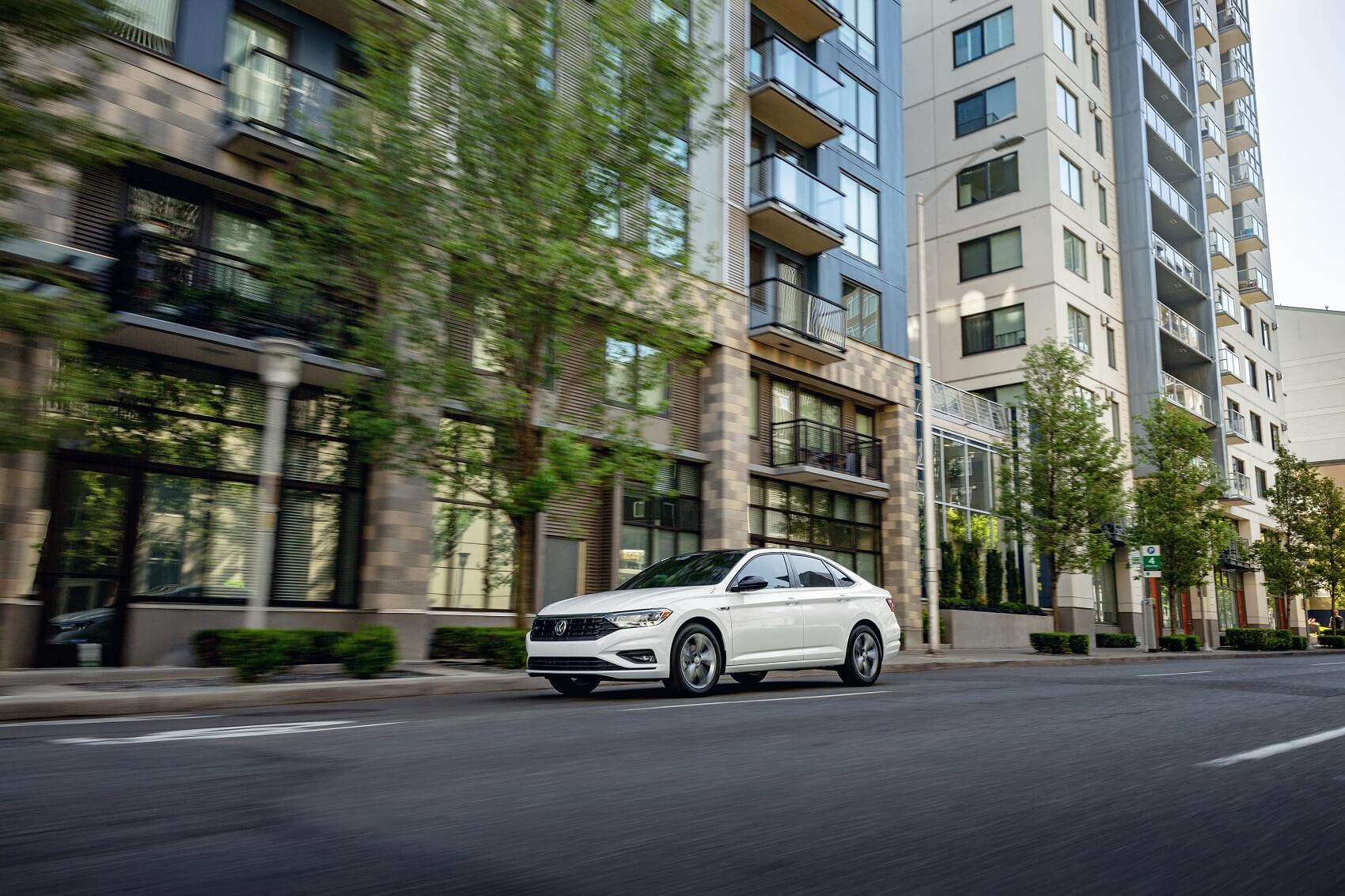 While the VW Jetta is ultimately efficient, it's important to remember that the EPA estimates are just that: they're estimates. This means that they're not always consistent. In fact, quite a few factors can affect the efficiency of your 2021 Volkswagen Jetta.
Here are some tips and tricks to ensure you get the most out of your fuel while hitting the roads. Follow them and you're sure to see a difference in your VW Jetta fuel economy. 
Watch Your Driving Habits: All kinds of driving habits can hurt your fuel economy. However, one of the most common ways drivers reduce their fuel economy is with aggressive acceleration and braking. When you force your car to change gears faster, it takes more fuel to operate effectively. So, the next time you're behind the wheel, take note of how you hit those pedals.
Limit Short Trips: Not taking many short trips (15 to 20 minutes or less) can also improve your fuel economy. If you frequently make shorter commutes, your engine will work harder. This vital component needs time to warm up, and until it does, your ride needs more fuel to power it. Utilizing features like Remote Start will help ensure your VW Jetta is ready when you walk out the door.
Limit Weight: The Volkswagen Jetta offers seating for up to five in 94.7 cubic feet of passenger volume, as well as a payload of up to 937 pounds. However, it'll also reduce MPG if you have a lot of weight inside, whether from passengers or cargo. Make sure to only take along what you need to reduce weight and keep efficiency up.
Keep up on Vehicle Maintenance: Making sure you always schedule maintenance appointments when recommended will also keep your VW Jetta running as fuel economically as possible. This is because processes like oil changes, tire rotations, and more, safeguard your engine allowing it to use less power (thus use less gas).
In fact, a telltale sign that your vehicle needs maintenance is a lessened fuel economy. Check your owner's manual for when you should schedule your next appointment.
Don't Forget About Tire Care: Another reason you could be seeing a drop in your MPG might be because of your tires. Making sure they have the proper amount of air is crucial, and with the Tire Pressure Monitoring System on the 2021 VW Jetta, it's easy to keep track. This will let you know when to fill up your tires, keeping your efficiency higher.
---
A Peek into More VW Jetta Features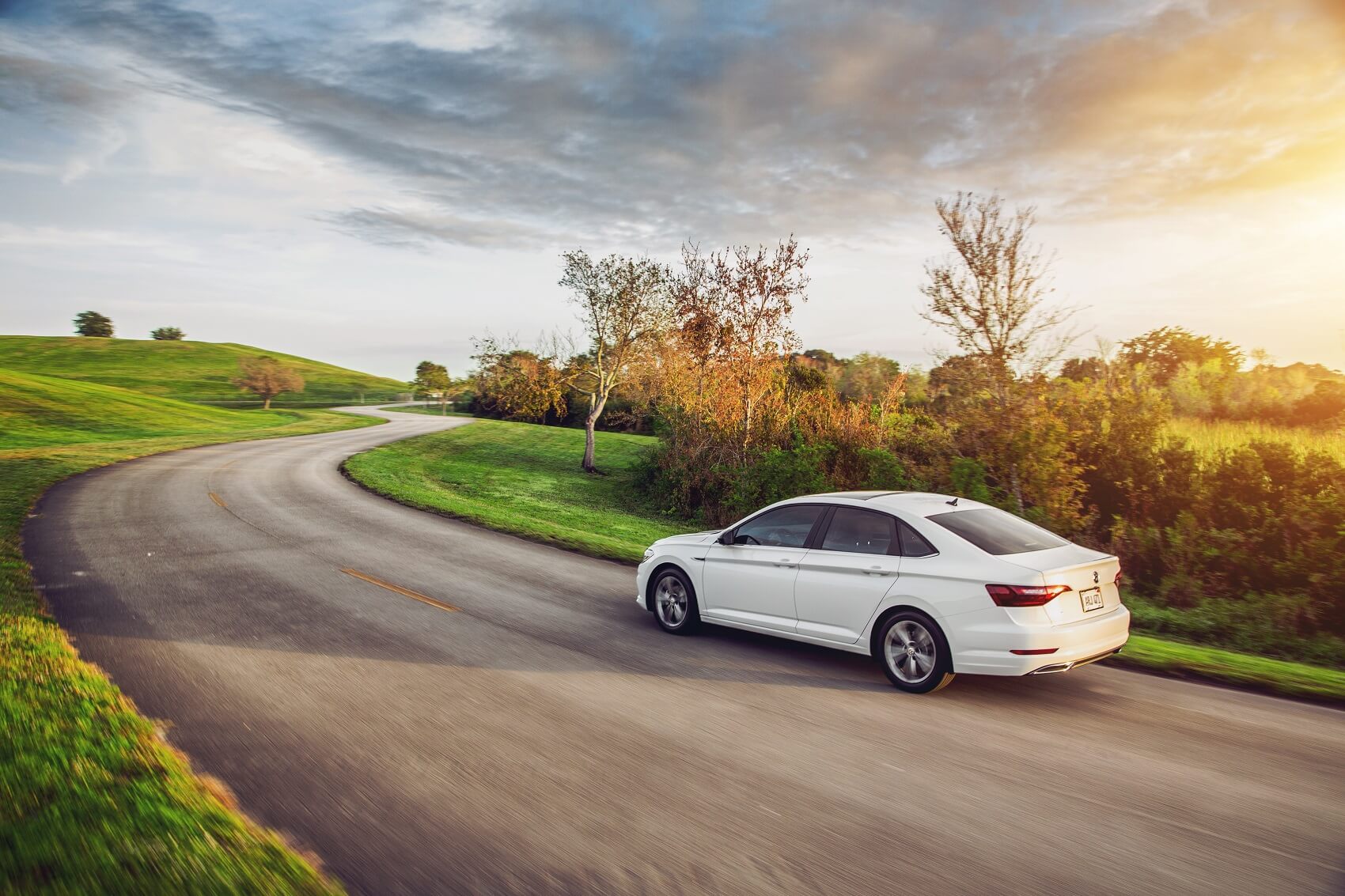 The Volkswagen Jetta is a highly coveted car, and not just because of its fuel economy. There are a ton of features to be excited about inside and out, from technology to interior amenities and even chances to customize the sedan to suit your style.  
Here's a look into some of the available features that await you with this sedan:
Volkswagen Car-Net®: Keeping you connected with your car even when you're not inside, this technology lets you do a myriad of tasks remotely. You can lock and unlock your doors, start the engine, receive reminders of where you parked, set driving limits, and much more. It even comes with in-vehicle Wi-Fi hotspot capability.
LED Lighting: Adding sporty style, LED taillights and headlights are long-lasting and highly efficient.
Bold Colors: From Habanero Orange and Silk Blue to Deep Black Pearl, Pyrite Silver, and more, there's a perfect color choice for the exterior of your VW Jetta. This is a great way to show off your personal style and make others envious on the road.
Rear View Camera System: Displaying what's behind you on your dashboard display, you can avoid hitting objects and park like a champ.
Driver Assistive Technologies: The 2021 VW Jetta is filled with tons of driving aids that give you confidence behind the wheel. Features like the Blind Spot Monitor, Lane Assist, Rear Traffic Alert, and more, all help keep you more aware and may assist in preventing collisions.
Volkswagen Digital Cockpit: Transforming the traditional instrument cluster into a digital innovation, this display keeps you informed about your most important driving stats. You can even customize what you see with options like speed, route guidance, safety systems, and more.
---
Drive Efficiently in the 2021 VW Jetta
While the 2021 VW Jetta MPG rating is certainly impressive, it's just a small part of everything this sedan has to offer. To learn more about what the Volkswagen Jetta can do for you, you'll need to experience it for yourself.
If you live in the Devon, Wayne, and Paoli, PA, area, you can do exactly that at Fred Beans Volkswagen of Devon. Schedule your test drive today and allow our team to get you behind the wheel where you belong. We hope to see you on the lot soon!
*30 city/41 highway mpg (2021 Jetta 1.4L, 6-speed manual transmission). EPA estimates. Your mileage will vary and depends on several factors, including your driving habits and vehicle condition.