As one of the most forward-thinking sedans on the market, the 2021 Volkswagen Jetta has everything drivers around Devon, Wayne, and Paoli, Pennsylvania, need. One area in which this vehicle excels is technology with its advanced infotainment system, top-notch active safety features, and much more.
In this 2021 VW Jetta technology review, we at Fred Beans Volkswagen of Devon will introduce you to just some of the remarkable features the 2021 VW Jetta has to offer. Will it prove to be as modern as you are? Read ahead to find out!
---
Impressive Infotainment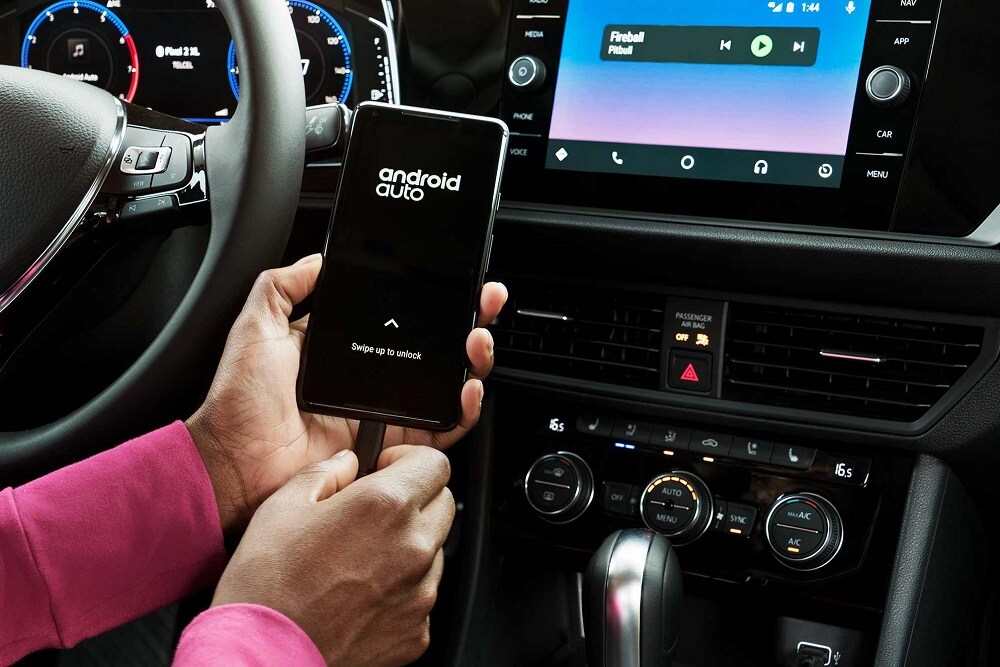 Entertainment and connectivity are a must in this day and age, so why shouldn't it be available while we're on the go as well? The Volkswagen Jetta makes this possible with their progressive suite of infotainment options. More is merrier, and the VW Jetta comes packed with loads of features designed for both fun and function.
Inside the 2021 VW Jetta, you'll find the available 8-inch touchscreen navigation system. This sleek glass display offers you a wide array of capabilities starting with turn-by-turn navigation to all your new and favorite destinations. You can find a new route to your local favorites or search for nearby food, fuel, and attractions when you're visiting somewhere new.
On this 8-inch screen, you can also access all your smartphone apps through Apple CarPlay® and Android Auto™ technology. Bring your phone's home screen to the central screen and access your texts, calls, apps, music, and more, conveniently and safely. You can stay connected and be safe while doing so with this convenient technology.
You can get live traffic and weather updates from SiriusXM® Traffic and Travel Link®. If you're in the mood for news, live sports, or comedy, you can browse dozens of stations and find something to suit your tastes. Your next favorite band or artist is waiting for you to discover them!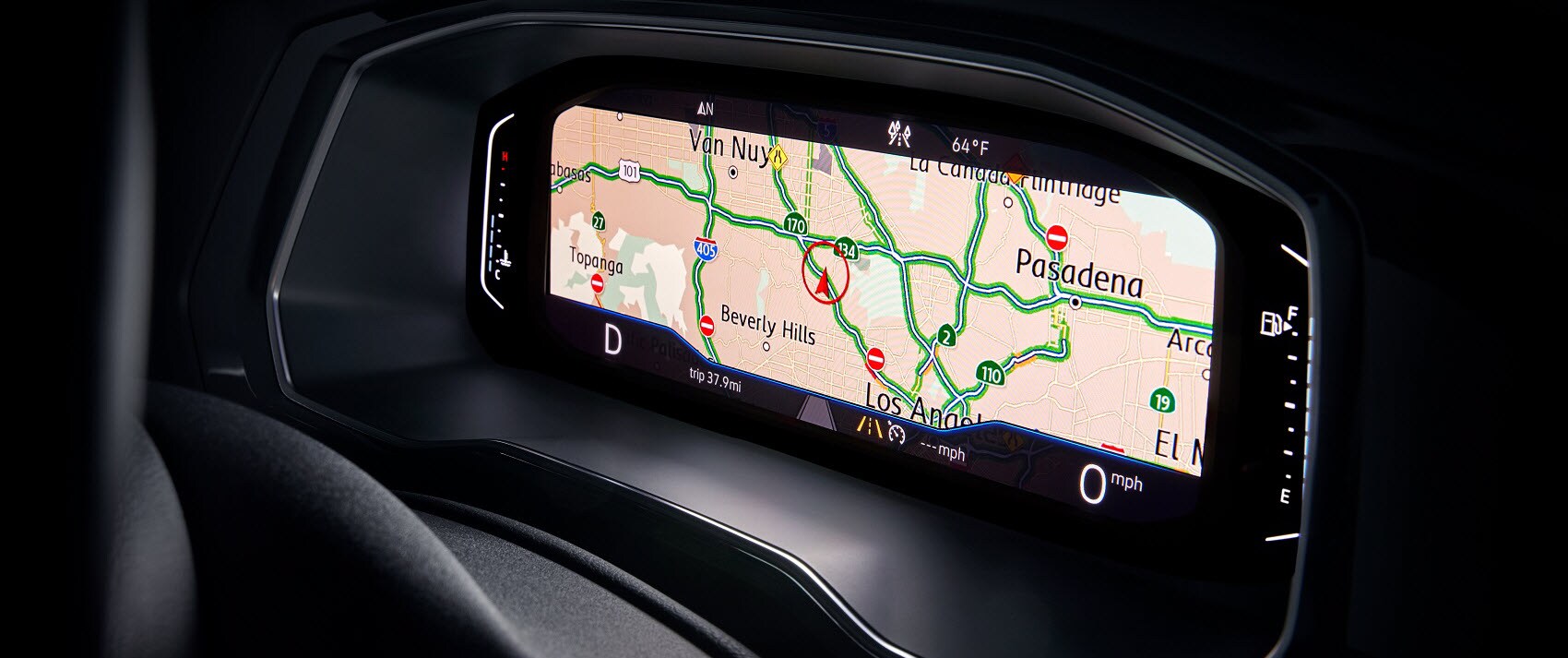 You even select your drive mode from the touchscreen to fine-tune your driving experience. The four different modes adjust your Volkswagen Jetta for whatever occasion you're encountering:
Eco: Adjust the shift points, climate control settings, and more with the goal of optimal fuel economy.
Sport: Enjoy the dynamic throttle, tighter steering, and a bold exhaust. Conquer the open highway with this mode!
Normal: Strike some common ground between Eco and Sport for a balanced, enjoyable drive.
Custom: Want to adjust different settings on your own? The Custom drive mode lets you fine-tune the steering, climate control, throttle, and other systems to get the performance you're looking for.
When using Bluetooth®, your music streaming capabilities will go to the next level. Expect to play concert-like sound through the 2021 VW Jetta available BeatsAudio™ sound system. This system is designed by world-renowned experts in high-quality sound. The audiophile in you will enjoy music like never before.

Other infotainment technologies available for the Volkswagen Jetta include:
Wireless Smartphone Charger: Never have a spent device battery again or the cords that come with charging. With this conveniently placed charging pad, just set your phone down and watch your battery life improve.
Rear View Camera System: Parking, backing out of your driveway, and much more, are made easier (and safer) with this camera system. It displays what's behind you while in reverse on your dashboard display, so you can avoid accidents and park perfectly.
HD Radio™: HD Radio™ makes all your music sound great by transmitting the highest quality of digital sound available. This pairs well with features like SiriusXM® and your BeatsAudio™ system.
Volkswagen Digital Cockpit: This available 10-inch screen found behind your steering wheel displays all the important driving information you need. Information like speed, fuel economy, navigation, and more, can all be customized to your needs as well!
---
VW Car-Net® Security & Service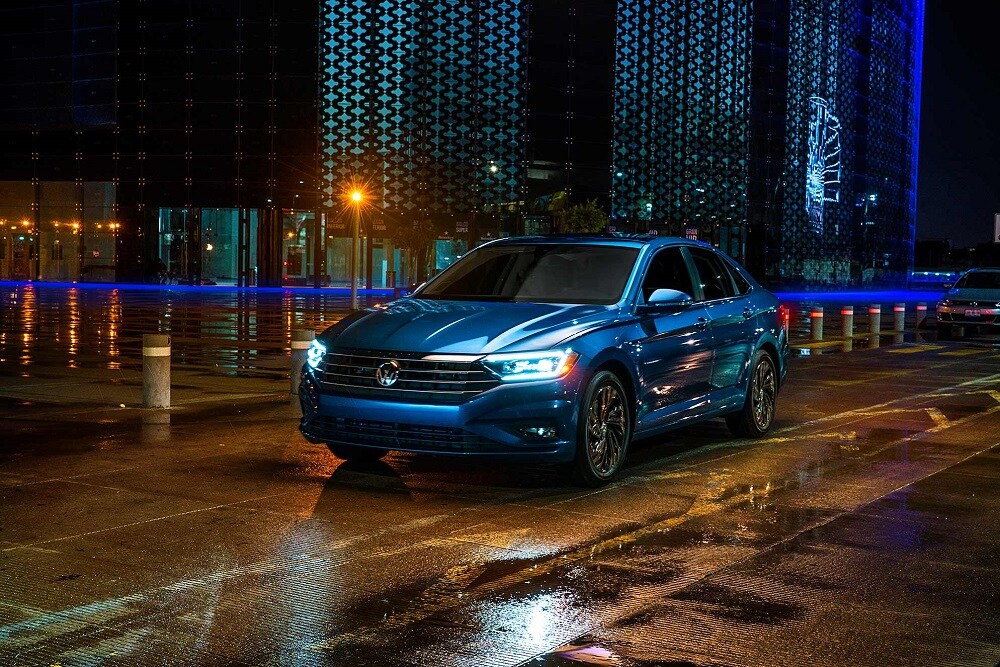 The 2021 Volkswagen Jetta offers plenty of tech in its interior, but it also lets you take some with you when you go out with VW Car-Net® Security & Service. This smartphone app gives you the capability to control an array of aspects of your VW Jetta right from the palm of your hand.
Even after you get out of the car, you can still do things like remotely lock or unlock any of the four doors or trunk. You can also save your parking location on the app to refer back to later when you're trying to find your car in the parking lot. On top of all that, you can also start the car and set the climate zone temperatures, so the interior is already at the perfect temperature when you get in.
You can even sync your VW Jetta with your Alexa® device to give simple commands to control your ride remotely. You can honk the horn, flash the lights, and, of course, lock/unlock your doors and access remote start.

VW Car-Net® doesn't stop there. You'll also enjoy several e-Mobility services that keep you in the loop about your vehicle.
Family Guardian Alerts: Keep tabs on your car when someone else is behind the wheel with this feature. You can even set customized boundaries, speed limits, curfews, and valet alerts-great for those with teen drivers.
Safe & Secure: This feature gives you peace of mind with anti-theft alerts, automatic crash notifications, emergency assistance, and even a stolen vehicle locator. You can also access information assistance and roadside call assist when you need it the most.
DriveView: When you enroll in DriveView, you'll get statistics and data on your drives that may make you eligible for better insurance rates. It's good to have proof of your safe driving!
Parking Info: Stuck trying to find a place to park? The power of Parkopedia® is linked with VW Car-Net® and helps guide you to off-street spots, so you can safely leave your VW Jetta as you explore your destination.
VW Car-Net® Hotspot: Transform your Volkswagen Jetta into a moving hotspot that keeps your family entertained and your phone's data at a minimum. This hotspot can be used by up to four different devices at a time as well. Your rear seat passengers can stream their favorite entertainment, and you can access the cloud and check emails when you've safely pulled over.
---
Advanced Active Safety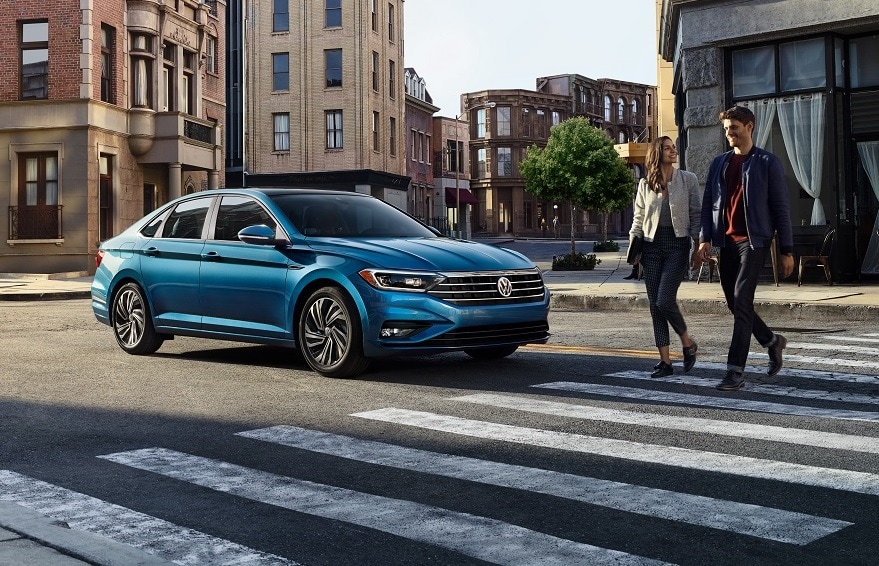 Technology doesn't just apply to entertainment and convenience in the 2021 Volkswagen Jetta. This model is fitted out with a number of tech-savvy active safety features that you can rely on. These driver-assistive technologies give you extra peace of mind as they work alongside your safe driving habits to help keep you protected. These technologies are available on all trims of the VW Jetta:
Forward Collision Warning: Part of Front Assist, this system senses potential impacts before they happen. You can avoid these rear-end accidents and fender benders when the system gives you audio and visual cues.
Autonomous Emergency Braking: If you're on track for an accident, the VW Jetta can assist you in applying extra brake pressure, or even brake automatically. The full package of VW Jetta Front Assist keeps you covered from potential accidents.
Blind Spot Monitor: If you want to change lanes on the highway, this system will help you to do it safely. As you signal a turn, the Blind Spot Monitor will sense if there are any other vehicles outside your field of vision. Highway safety is important, and this system helps keep you protected.

You can also opt for an additional handful of Driver Assistance features including:
Adaptive Cruise Control: This system maintains a preset speed and distance from the car in front of you while on the highway. It can also detect when those vehicles speed up or slow down, and will adjust automatically.
Light Assist: When your VW Jetta senses a dark road, it'll turn on the high beams when driving at 37 MPH or higher. If it senses a vehicle is coming your way, it'll dim the lights to ensure everyone is safer on the road.
Lane Assist: If you happen to drift into another lane without your turn signal, this system will alert you with a notification. It can even help keep you in the lane by watching the markings on the road.
Rear Traffic Alert: When you're backing out of your driveway or parking space, these sensors will let you know when someone is coming from either side. It can also help brake if needed.
All these features are smartly designed to operate as a co-pilot, with a second set of eyes on the road. They monitor your surroundings, give you warnings to prevent accidents, and can even act on their own to help you reduce or prevent impact.
---
Explore the 2021 VW Jetta Today!
As you can see, the 2021 Volkswagen Jetta doesn't hold back when it comes to technology. Want to see what else this impressive sedan can do? Then head to Fred Beans Volkswagen of Devon and get in the driver's seat for yourself-it's the best way to experience this impressive car. Shoppers around Devon, Wayne, and Paoli, PA, can schedule a test drive today by giving us a call!