For most drivers, there is no better and more intriguing car than a Volkswagen. Whether you like the traditional Beetle, Bug or one of the larger models, we at Fred Beans Volkswagen of Devon love matching you with the VW that will best serve your needs. Whether you live in Devon, Wayne or Paoli, we want to build a relationship with you and give you all the information you need about your chosen car.
We recently investigated the Volkswagen Passat technology features for your benefit. We hope that what we found will inspire you to make the 2018 VW Passat part of your everyday driving experience.
VW Passat Infotainment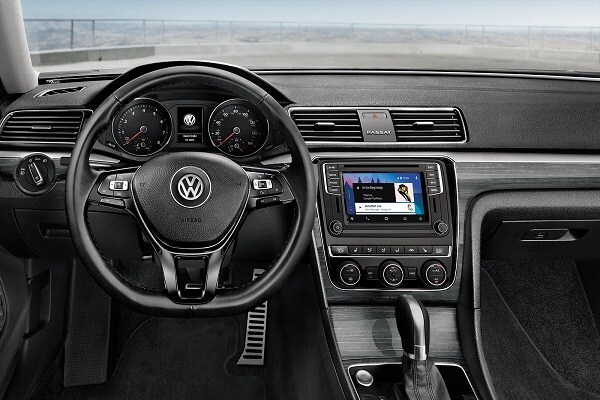 The 2018 Volkswagen Passat technology starts off with a massively improved touchscreen and digital cockpit. the five-inch touchscreen is small but mighty, able to display navigation, basic car information and anything else you might need. If you like your touchscreens a bit bigger, a 6.3-inch one is available in the SE/with technology trim level. Your touchscreen gives you the advantage of full-color, easy to read maps that change quickly as you drive. It also provides up-to-the-minute info on things like gasoline levels, traffic conditions and how your car is operating.
Additionally, we found several of our favorite infotainment features come standard or are optional on the 2018 Passat. Bluetooth phone and audio capabilities are standard, as is voice command and AUX input. The extra input ensures you can communicate easily with your car and will always hear your on-board navigation clearly. We recommend investing in real-time traffic and weather reports as well because these are a huge help in planning daily commutes or long trips. Full navigation is optional, but a great worthwhile investment.
Safety Features
Volkswagen drivers want to be safe as much if not more than entertained. In this case, the 2018 VW Passat technology does not disappoint. It will come equipped with a backup camera as part of a May 2018 initiative to improve safety of all vehicles. Alarms and anti-theft systems are optional worthwhile investments, as are lane-departure warnings, lane-keeping assist and adaptive cruise control. Autonomous emergency braking comes standard, as do airbags and child seats with LATCH points.
Additional Features
In examining the 2018 VW Passat, we found many features that cross between safety and infotainment, or are simply there for your comfort. Keyless start is one of these; so you don't have to go digging in your pocket or purse to open your car. Steering wheel controls make your driving smoother, and they come on a luxurious leather-wrapped wheel. Power door locks, rain-sensing wipers and similar features are all optional, but keep your car safe and secure whether you are driving through rough weather or parking in an unfamiliar lot. We also recommend investing in high beam lights and fog lamps. We also liked the optional heated seats, especially for those chilly spring mornings.
Learn More at Fred Beans Volkswagen of Devon
If you have questions about 2018 VW Passat technology, would like to test drive this car or see more of our new inventory, please contact Fred Beans Volkswagen of Devon today.