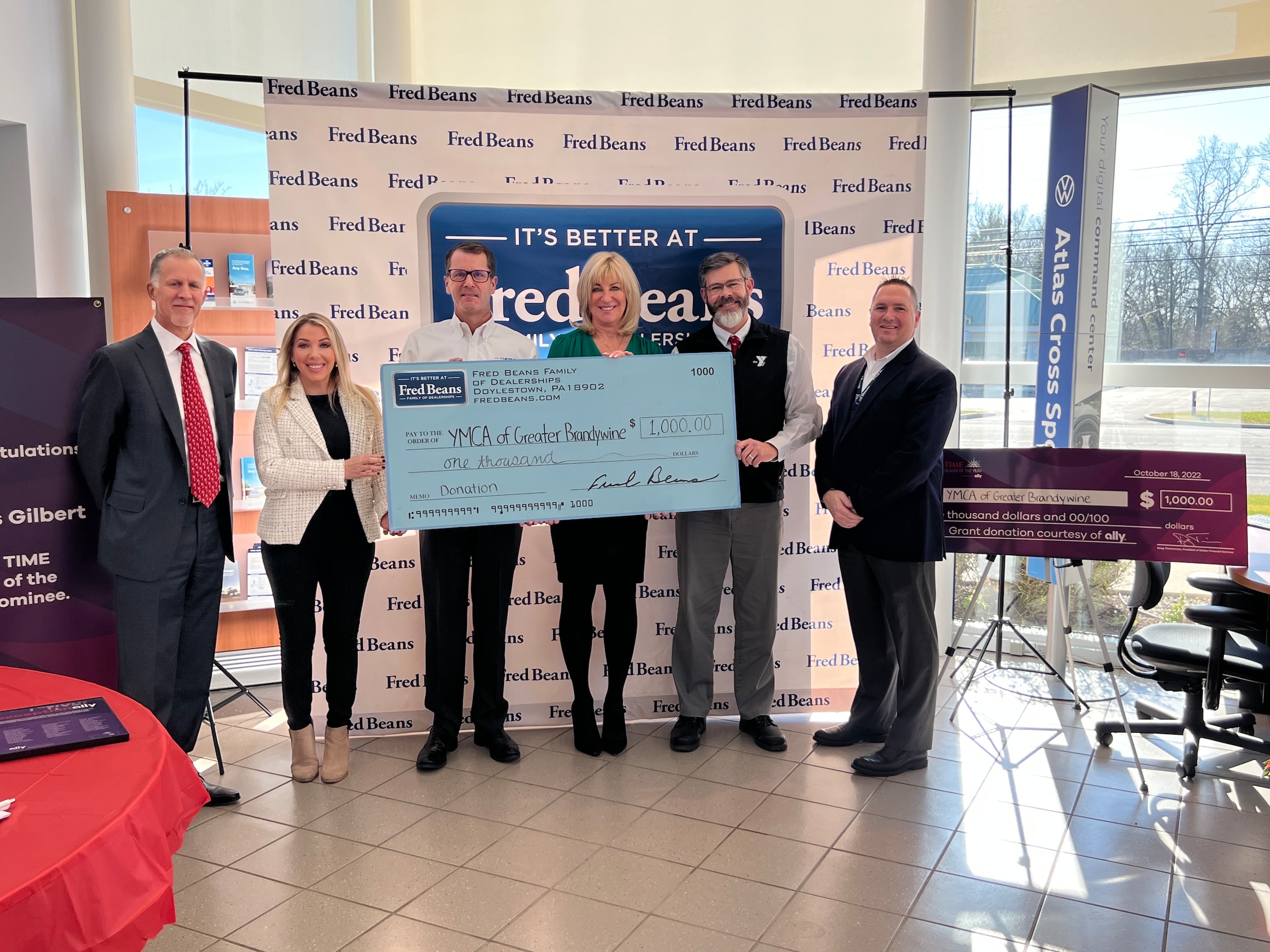 As one of 48 nominees nationwide for the 2023 TIME Dealer of the Year award, Beth Beans Gilbert received $1,000 from Ally Financial to donate to a charity of her choice. Last month, Ally Financial representatives joined Beans Gilbert at Fred Beans Volkswagen of Devon to present that philanthropic prize to the YMCA of Greater Brandywine. The Fred Beans Charitable Foundation matched Ally's contribution to the local nonprofit.
"We have strong relationships with the YMCAs located in areas where our automotive group operates, because the organization's mission so closely aligns with our own values as a family-owned business," said Beans Gilbert. "At Fred Beans, we are committed to supporting the people closest to us, both team members and customers, and genuinely investing in their well-being."
As vice president of Fred Beans Automotive Group and president of Fred Beans Volkswagen of Devon, Beans Gilbert was chosen to represent the Pennsylvania Automotive Association in the national competition for TIME Dealer of the Year. She will join nominees from across the country at the 106th annual National Automobile Dealers Association (NADA) Show in Dallas, Texas, on Jan. 27, 2023. Three finalists will receive an additional $5,000 for their favorite charities, and the winner will receive $10,000 to give to charity, all donated by Ally.
The TIME Dealer of the Year award is one of the automobile industry's most prestigious and highly coveted honors. The award recognizes the nation's most successful auto dealers who also demonstrate a long-standing commitment to community service.
Beans Gilbert has formalized the Fred Beans Automotive Group's commitment to community through the Fred Beans Charitable Foundation. The Foundation aims to give back regionally, specifically in areas where Fred Beans Automotive Group operates. It directs funding toward initiatives and organizations that provide important services and those that improve the quality of life through education, the arts, and health and fitness.