Looking for a fresh, new-to-you ride to add some excitement to your daily commutes around Paoli, Devon or Wayne. Your dream car should be something that you love - at a price that you can love, too. If that's the case for you, you might be considering a lease plan. A lease requires a shorter time commitment than a purchase, and has much lower monthly payments as well. But, can you lease a used car?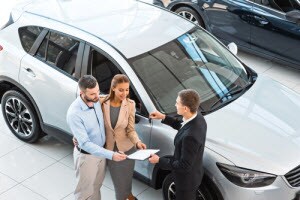 Our team at Fred Beans Volkswagen of Devon has created this helpful article to help you answer that question and a few more that you might have about leasing a car.
Can You Lease a Used Car?
The answer is yes! A used car can be paid for with the exact same kind of lease plan you'd use to borrow a brand-new car. All you have to do is pick out a pre-owned car that you love, and then head to the Finance Center at the car dealership. The staff of financial professionals can speak with you about your financial situation and needs, and then put together your personalized lease plan.
 When you choose to lease your pre-owned car, you'll essentially be borrowing it from the dealership for a pre-determined time period. During that time, you'll make monthly payments for the vehicle, and once the lease term is over, all you have to do is drop it back off at the dealership.
What are the Benefits of Leasing?
The monthly payments that you'll make during your lease cover the car's depreciation incurred during your time of use. When you purchase the car in full, you're responsible for paying for the car's full value - which means that leasing requires much lower monthly payments.

When the term of your lease ends, you can simply return the car to the dealer and be free to find something new to drive. You'll never get bored of driving the same car for years on end, and every couple years, you'll be able to upgrade to more modern technologies and features.
What are the Cons of Leasing?
Many lease contracts will require you to limit the number of miles you drive to a certain amount. You'll need to make sure that the amount you need to drive the car falls within this range.

You can't make any changes or add on accessories to the vehicle. You'll also have to be extra careful about avoiding wear and damage, both inside and out of the car. The dealer will expect the vehicle to be returned in about the same condition as when you first drove it home.
Discover Your Dream Car
Ready to find a car that you'll adore for your commutes around Paoli, Devon or Wayne for the next few years? A used car lease could be the perfect option for you. Visit Fred Beans Volkswagen of Devon to see all of the pre-owned vehicles we have in stock, or simply head to our website to browse our online inventory at any time. When you're ready, let us know that you'd like to schedule a test drive, and we'll make sure you love your car before you sign a lease.